Thailand Nite Life!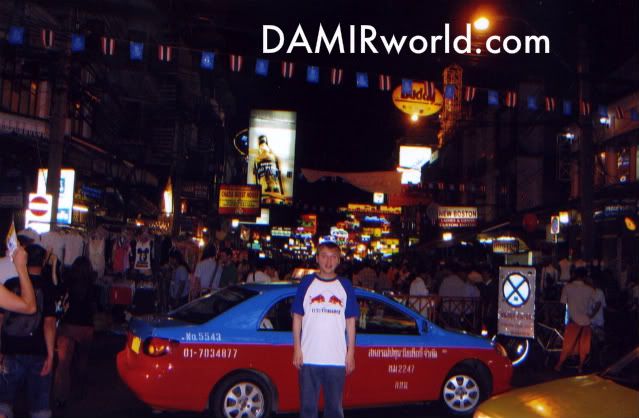 Thailand has suffered the extreme Boxing Day - Tsunami the worst natural disaster to ever strike Thailand and still recovering. God Bless.
I had a chance to travel to Thailand and check out Bangkok, Khao San Road and some of the Islands.
I saw a tourist from every country I know. Its packed with people from everywhere and we had a great time. This is a visit for someone who wants to grow and change. Thailand is very inspiring and motivating as well as encouraging with the presence of the Buddhist temples. A Life Recovery! Its definitely an example of the Recovery of a Nation. Yes we can learn Change, Hope and Recovery for all. And continue on the recovery road.
D's At Khao San Road Thailand
Just Chillin !
Hey - it's Khao San Road!
Full Story and Special Report from DAMIRs Visit to Thailand, Nasa, Mt. Fuji, Pow Wow, South Korea and North Korea at the DMZ and more. DAMIRworld your source for underground Offbeat, interesting News. Images and News drawn from DAMIRs visits around the world. Underground Music and Information about places and politics.
Damirworld's Website Visit Here - Add Friend And Leave A Comment. Listen To "Worse Scenario - Best Outcome"
http://www.damirworld.com
DAMIR, Da means Give, to give, or Yes, and Mir means calm, peace, peacefulness, quiet, still, stillness, and tranquility, so when you put it together, DAMIR means Give Peace to the world