My Day With His Excellency President Festus Mogae - Former President Of Botswana
By:
The Consultingguy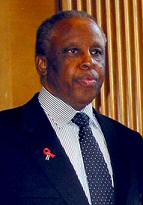 Sketch Biography
His Excellency President Festus G. Mogae was born in Botswana on August 21, 1939. He received his education at Oxford University where he received his BA in Economics and earned his Master's degree in Development Economics in 1970 at the University of Sussex in the United Kingdom.
Prior to becoming President of Botswana in 1998, President Festus Mogae held the position of Planning Officer in 1968 and later became Director of Economic Affairs in 1972. This was the beginning of His Excellency holding many positions of service before ascending to the Presidency of Botswana.
From 1971 to 1978 some of the positions His Excellency President Mogae held were the Alternate Governor for Botswana. His Excellency has also devoted time in working with the IMF (International Monetary Fund), African Development Bank, and International Bank of Reconstruction and Development. He has also held the position of Director of Botswana Development Corporation, Governor of the Bank of Botswana, and Minister of Finance and Development Planning. A couple of his political positions that he held were the leader of the House of Botswana's National Assembly and Chairman of the Finance and Economic Committee of the Botswana Democratic Party.
His Excellency has served his beloved country with honor and distinction. He has been the recipient of many national and international awards and honors. His greatest honors are the Naledi Ya Botswana (NYB), the highest honor of the Republic of Botswana, and the Presidential Order of Honor of Botswana. His Excellency is married and the father of three daughters.
President Festus Mogae & The Consultingguy
As I listened to the speech given by His Excellency President Festus Mogae on March 18, 2009 at Northeastern University in Boston, MA. I felt the connection of interests among politics and economics that only a true leader with ambitious qualities has. President Mogae focused his speech on the presentation of his defining role in the implementation of the development strategy that successfully led to the independence of Botswana in 1966.
President Mogae traveled a long road to gain the respect and confidence of the world wide political stage with his initiation of policy that would lead Botswana on the road to economic superiority by harnessing the cultivation of Botswana's largest natural resource, the diamond. The former president shared his thoughts for developing the National Development Plan, reorganization of the Customs Union, obtaining assistance for Botswana through the International Aid Plan, and spreading awareness to the people of Botswana about having a vested interest in the affairs and resources that Botswana has to offer.
It was surprising to me to learn that during the early days of Botswana's independence that the world renowned diamond mining company Debeers came to Botswana to lend a hand to the country with capital investment. The original agreement was supposed to extend venture capital and repayment of venture capital over the course of a seven year period. Botswana's natural resource of diamonds was so abundant that the country was able to repay the loans for the venture capital within a period of eighteen months. This surprised the Debeers company and at first they hesitated on the renegotiation of the capital investment agreement stating that the original agreement was for seven years. Legal action ensued and the Ford Foundation got involved to provide legal assistance in helping Botswana renegotiate the terms of the agreement.
As the new found success of Botswana took shape President Mogae reflected on the fact that Botswana is surrounded by neighboring countries on all sides and racism ensued from such countries as South Africa. President Mogae stated, "We were dependent on imported goods and services from South Africa." With this reflection it became evident that Botswana was greatly limited with the amount of human capital that it was able to provide for itself to ensure its own self sufficiency. I asked President Mogae does Botswana plan to grow economically using technology and advancements? President Mogae stated, "We have failed to diversify, computers and diamond cutting lasers have replaced traditional diamond cutting operators." The president made a point of stating that educational programs that encourage students of Botswana to live abroad and return to work their skilled craft in Botswana are slowly coming around as being successful tools to build Botswana's human capital base and self vesting interests.
I was very interested in knowing do other world leaders still contact President Mogae regarding economic advice for their country? I asked him and he answered by stating, "Yes, I am involved with the Southern African Development Coalition and The African Union." He also stated that he is currently working on development projects with other African nations to deal with the issues of policy and corruption. President Mogae emphasized the need to impose term limits on leaders of African nations to ensure that leaders do not become obsessed with retaining power. In many cases leaders of corrupt African nations become fixed on winning the next election and begin to loose focus on what needs to be done within the country.
It was also very interesting to hear that even though former U.S. President Bush and President Mogae disagreed on numerous topics President Mogae was especially grateful for the economic and development aid that President Bush consistently sent to help his country. President Mogae stated, "We don't give a damn if other countries or people disliked President Bush, he helped us." I was very surprised by this statement, but it wasn't hard to understand why President Mogae was appreciative of President Bush's help. President Mogae also admired the work and diligence of the first African American Secretary of State Colin Powell and the first female African American Secretary of State and National Security Advisor Condoleezza Rice. "They were our connection to the White House," President Mogae stated.
One student of NEU asked the final question to President Mogea stating, what advice do you have for aspiring future leaders of African countries? President Mogea responded, "The people must go back and correct the mistakes of the past to make a positive impact on future results."
(Photos - From Left To Right) Tachani Quarles Introducing President Mogae, Students of NEU with President Mogae,
NEU African American Institute Director Dr. Richard O'Bryant with President Mogae,
NEU African America Institute Librarian Kantigi Camara with President Mogae
© Diverse Media, LLC. 2009