The New mixtape from Maryland Rapper J-Mill – Illa Gorilla Hosted by Dj 5150 is another certified banger from an up and coming rap phenom. J-Mill drops his second official mixtape with down south D Jay, Dj 5150 making this a odd combination that seems to work remarkably for the emcee. J-Mill exquisites once again another dope mixtape with vivid rhyme schemes and cadences that any hip hop head can love. This mixtape features tracks with Capone of CNN, J Hood, and Brazil Street Records own Big Fase 100.
Download Now:
http://www.datpiff.com/Dj_5150_J-Mill_J_Hood_Capone_Big_Fase_100_il...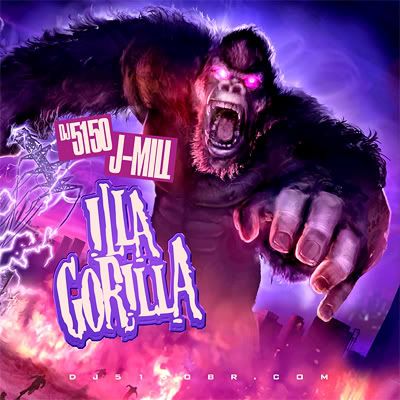 1. Intro
2. Illa Gorilla (Rap Booth Killa)
3. D.O.A.
4. Movin Units
5. This My Life
6. Get Money Money Ft Big Fase 100 (Original - Produced By D Snow)
7. Lord IDK
8. Always Strapped
9. Awesome
10. Forever
11. Ghetto
12. Grind Grind
13. Sort Of Like A Big Deal
14. Thank The Lord
15. Nigga I See
16. They Know
17. You Aint Gotta Cry
18. Successful
19. Niggaz Hatin
20. City Boy ( Original - Off the SCR Exclusive Available on Itunes)
21. Money Over Bitches Ft Yaz
22. Wetter
23. Throw It In The Bag
24. Us Against The World
25. Commercial
26. Cold As Ice Ft Capone (Orginial Ft Capone from CNN)
27. Big Tubbs – The Score P2 Ft J-Mill
28. What I Feel (Original Music)
29. Get Fresh Ft J Hood (Original – Produced by Take Ova)
30. Empire State Of Mind (DMV Edition)
Myspace.com/therealjmill
J-Mill.com
Dj5150br.com
Feedback appreciated 1-10 (jmilliscr@gmail.com)