MISS MEKA da MODEL
MILWAUKEE, WI
BOOKINGMISSMEKA@GMAIL.COM
http://www.itsmyurls.com/missmeka
==>> Over 20+ updated sites!! :)
*2010 PROJECTS*
~2010 PICTURE DIS MODEL CHECK ME OUT IN THE CALENDAR!!! MISS FEBRUARY
http://www.picturedismodels.com
~2010 SON2ME MODELS, LLC. CALENDAR
http://www.soN2me.com
~FBM MAGAZINE MARCH 2010
http://www.fbm-mag.com
~ ENFLUENZ MAGAZINE - MAY 2010
http://www.enfluenzmagazine.com/sexyologygirl/store/
~STUNNAZ MAGAZINE - JUNE 2010
PUBLISHED EROTICA ARTICLE
http://www.stunnazmag.com/
~MY INCEPTION MAGAZINE - JULY 2010
http://www.my-inception,com/missmeka
~HEELZ $ WHEELZ GIRLZ - 2010
Founders: @MADAMETIFFANY @MISS_MEKA (TWITTER)
EVENT PROMO, MODELS, WRITERS, RAPPERS, FASHION DESIGN, ETC.
*PROMO PICS/VIDEO COMING SOON*
"FREE COST TOO MUCH"
MISS MEKA AND TJs DJs @ TONY NEALS SUMMER JAM PT2 IN MILWAUKEE, WI
MISS MEKA AND RAPPER SHAWT @ TONY NEALS SUMMER JAM PT2 IN MILWAUKEE, WI
:::::::::::::::::::::::I AM AVAILABLE FOR:::::::::::::::::::::::::::::
MUSIC VIDEOS ~ VOICE OVERS ~ COMMERCIALS ~ FLYERS ~ PARTIES/EVENTS ~ TRADESHOWS ~ SONGWRITING (HOOKS) ~ PRINT ADS ~ BANNERS ~ PROMOTION/ADVERTISING ~ BIOS ~ MAGAZINE SPREADS/COLUMNS ~ FREELANCE WRITING ~ SHORT STORY ADULT WRITINGS *ESPECIALLY GOOD FOR MENS' MAGAZINES..;)*
Miss Meka da Model – Milwaukee, WI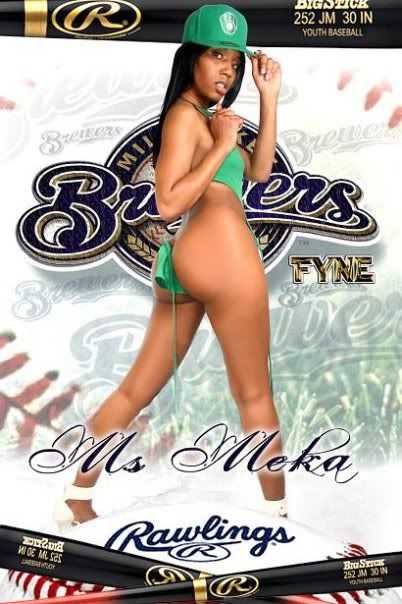 **BIO**
From assisting artist' with media kits and biographies to promoting and getting behind flashing lights with her 'GAME FACE' on this upcoming multi-talented beauty is quickly creating a buzz online, in her city and in the streets. Hailing from Milwaukee County, Shameka that goes by the model name of MISS MEKA; began her journey promoting as a Remy Spokesmodel for Black Music Month in Plantation, FL., a NASCAR Spokesmodel at Milwaukee Mile, appearing on numerous flyers, posters and model featured websites throughout the States and hosting events locally. Miss Meka quickly transitioned from promo to print.
She received her first two page/bio spread gracing the premiere issue of Skin Tones Magazine based in Chicago, IL., but sold worldwide via online. She also is a part of the sophisticated women of SoN2Me where she is a model for the 2009 SoN2Me Calendar. This 36/25/37 petite bronze beauty is no stranger to the modeling world having worked with prominent photographers all over the United States including Ralph 'OMIGAWD' Lenard (Atlanta, GA.), Martin 'NUREIGN' Drysdale (Gainesville, FL.), James Rich Studios (Atlanta, GA; Worldwide) and most recently Shawn Darnell – So Fyne Models (Detroit, MI.) she is definitely on the right path!
Miss Meka has generated fans all over the world! Creating over 38,000 views on myspace, 64,000 view on youtube and close to 20,000 friends (on all her sites combined) worldwide; she is upcoming with longevity in the modeling world. She was nominated as Model of the Year for Milwaukee Urban Music Awards gaining 2nd place! She was also a featured model on upcoming rap artist Ray Nitti's website.
Expect to see and hear more from this Midwest cutie as she will be launching a website in 2010 complete with candid photos, videos, blogs, updated model pics and material to purchase definitely. She is also branching into the freelance writing/publishing world and is an established copy-written ASCAP registered writer and is available to assist you with all your writing needs! If you like to book Miss Meka for high-end promotions, calendars, major magazines and music videos, etc. contact her directly @ BOOKINGMISSMEKA@GMAIL.COM SUBJECT: BOOKING for rates.
*************STATS*************
URBAN MODEL
MEASUREMENTS: 36/24/37
HEIGHT: 5'6
WEIGHT: 128
DRESS SIZE: 3/4
SHOE SIZE: 8.5
ETHNICITY: AFRICAN AMERICAN
EXPERIENCE:
05/2007 CHIOPOLIS ENTERTAINMENT, LLC. – CHICAGO, IL
- Team Penske/ Marlboro Spokes-model
- Event: Indy 500 Series @ Milwaukee Mile
- Director of Talent Management – Jacquelyn Pillows (773) 252-3400
06/2007 INGENUITY ENTERPRISES – PLANTATION, FL
- E & J XO Spokes-model
- Event: Black Music Month
- Director of Talent Management – Cheryl Hargrove (945) 741-6074
01/2008 HIGH CLASS ENTERTAINMENT – MILWAUKEE, WI
- Promotions/ Model
- Freelance Writer/ Songwriter
- CEO of High Class ENT – Shameka Moore (414) 334-3186
02/2008 COLLABOR8ION ENTERTAINMENT – MILWAUKEE, WI
- Flyer Promotional Model
- Finesse Jazz Club
- CEO of Collabor8ion Entertainment – C-Way (920) 645-1915
08/2008 MILWAUKEE URBAN MUSIC AWARDS – MILWAUKEE, WI
- Miramar Theater
- Guest Model Host/Presenter
- CEO of So Be It Management – L.A. – (414) 526-1215
10/2008 SKIN TONES MAGAZINE – CHICAGO, MILWAUKEE, WORLDWIDE
- 2 page spread with Biography
- Contributing Writer
- Premiere issue – Charles Black Photography (773) 746-6656
12/2008 SoN2Me 2009 LINGERIE/SWIMSUIT CALENDAR – MILWAUKEE, WI
- Month of October
- Collaboration page with other SoN2Me Models
- CEO – Angela SoN2Me, LLC. – (414) 416-4221
01/2009 SOFT BOTTOM MAGAZINE – MILWAUKEE, ATLANTA, WORLDWIDE
- Upcoming premiere hitting stands March 2009
- H.K. Block Royalty Presents Bobby Valentino VIP
- CEO – H.K. (414) 324-5201
04/2009 YUNG LEGEND "SHE BAD" CD COVER, FLYERS - MILWAUKEE, ATLANTA, USA
- Core DJ promotional flyers for Yung Legend
- Yung Legend - SHE BAD
- Yung Legend (414) 397-0255
07/2009 RAP ARTIST RAY NITTI WEB FEATURE MODEL
MILWAUKEE, ATLANTA, USA
- Featured "BOW!" Beauty of the Week
- Ray Nitti - "BOW!"
- Ray Nitti - (414) 403-7298
08/2009 MILWAUKEE URBAN MUSIC AWARDS
MILWAUKEE, WI
- Nominated for Model of the Year
- Awarded 2nd Place
- So Be It Management, Antonio "LA" Greer - (414) 526-9943
09/2009 CORE MODEL ALONDUS WEB ADDICTION
- Featured as an "Addiction of the Week"
- Core Model Alondus sister company of COREDJS
- Alondus - (662) 897-0637
11/2009 JUDGE FOR MODEL CONTEST
- Featured guest judge for "Milwaukee Hottest upcoming Model"
- CLUB ENVY - Milwaukee, WI
- Benny Blanco - (414) 721-6603
01/2010 PICTURE DIS MODEL
- Feature spread in calendar
- Month of February
-
http://www.picturedismodels.com
- Sterling Odom (414) 807-3822
01/2010 SON2ME MODELS, LLC.
- Feature spread in in calendar
- Month of
-
http://www.son2me.com
- Angela (414) xxx-xxxx
01/2010 FBM MAGAZINE
- Feature spread in magazine
- Photoshoot by James Rich Studios
- James Rich (404) 552-8479
03/2010 CYSE GIRLS WORLD
- Feature of the Week as Cyse Girlz
- Feature with pics n interview
- DJ Averi Minor; Dave Paracyse
03/2010 CLUB STATUS
- One of the three host for Grand Opening
- Milwaukee, WI
- Club Status co-owner Mr. Famous
03/2010 GGURLS.COM
- Feature on GGURLS
- Pics, Bio, Video Clip courtesy of James Rich ATL
-
http://www.GGURLS.com/
04/2010 RAY NITTI "BOW" VIDEO
- Featured in Bow Video Biker scene
- Club Onyx
- Milwaukee, WI
05/2010 ENFLUENZ MAGAZINE
- 5 page spread in 4yr ANNIVERSARY ISSUE
-25+ interview questions
-
http://www.enfluenzmagazine.com/sexyologygirl/store/
06/2010 STUNNAZ MAGAZINE - ATL
- Featured spread
- Featured published erotica article
-
http://www.stunnazmagazine.com/
06/2010 Miss Meka da Model $ Madame Tiffany Presents:
Heelz $ Wheelz Girlz
-DVD Car Show hosting
-Event Promotions
-Hosting
07/2010 MY INCEPTION MAGAZINE - MINNEAPOLIS
-10 page feature spread
-Feature Model at Mag Release Party
-
http://www.my-inception,com/missmeka
10/2010 UNDERGROUND FUZION FEATURE
- Web featured Model of the Day
- Tawag Promotions 348.251.3888
-
http://undergroundfuzion.blogspot.com/2010/10/name-modeling-name-miss-meka-da-model.html
COMING SOON:
NIKERA CLOTHING
PERKS CLOTHING
DIS'AYNNE CLOTHING
HEELZ $ WHEELZ 2010 - 2011 CALENDAR
http://www.HEELZANDWHEELZ.com
==>> COMING SOON
MISS MEKA da MODEL 2010 - 2011 CALENAR
URBAN NOVEL (currently untitled) - EARLY 2011
*Looking for urban publishing companies*
http://www.blogger.com/profile/04373607863187258060
SONGWRITING for MILWAUKEE's:
SHEBA BABY
http://www.youtube.com/shebababy414
MADAME TIFFANY VS. AMERICAN SUPERSTAR
http://www.youtube.com/mstiff2010